January 17, 2012
Jacksonville, FL
Hello Mr. Geezer:
Thought you might find this interesting from a long-range member.
This year, the ARRL is sponsoring the DXCC Diamond Award, honoring 75 years of DXCC. I decided to give it a try, and here is my current info.
Starting January 3rd, I created a new log just for this award, and on January 16th, logged country number 101. So, two weeks to DXCC.
So that others might not think that DXCC is impossible for the "Little Pistol," I can tell you that I now live in an HOA-restricted community, with no big HF antennas allowed. Fortunately for me, there are a lot of large trees in the "green belt" behind the house. I use a G5RV Jr. at 20 feet, an 18m/12m doublet at 15 feet, and a full sized 40m and 80m inverted-vee with a 40-foot apex. Thus, all wire antennas in the trees.
There are some 226 entities listed for 1937. My goal is to land at least 150 of them. The next fifty will be a lot harder, but the solar cycle is on my side.
Wish me luck. I will keep you posted.
Bob, WA6EZV
---------- XXX ----------
February 17, 2012
Jacksonville, FL
Just a quick update. As I expected, it's getting a bit harder. Have managed to log an additional 50 countries in the last month for a total of 150 with 110 counting as part of the 227 original ones in 1937. Maybe 25 more next month? Who knows? With the upcoming DX contests in February and March, I have a shot at it.
As a side note, I hope to have a 160 meter 1/2 wave sloper up and running in the next week or two. It is going to be an interesting installation.
Later.
Bob, WA6EZV
---------- XXX ----------
April 7, 2012
Jacksonville, FL
Hello Mr. WebGeezer:
Thought I would give you an update.
Here is a snapshot of the basic award for 100 countries. By the end of March, I managed to work 119 of the original DXCC entities from 1937, and 171 countries total for the year. You can do it with dipoles, hi hi. It is now turning into a challenge to see how many bands I can work DXCC (100 countries) on by the end of the year. It should be interesting.
Later,
Bob, WA6EZV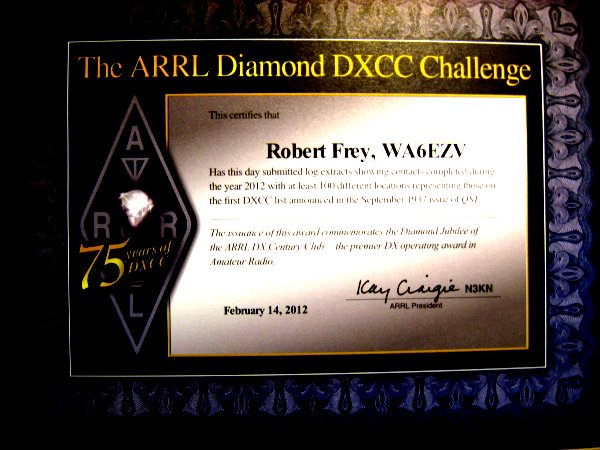 ---------- XXX ----------
May 6, 2012
Jacksonville, FL
Hi Geezer:
Just a quick update.
April was an interesting month with several rare DX operations taking control of the bands. Still, I managed to add 10 more countries to the Diamond total (129) to date and pushed the DXCC worked total this year to 185. Spratly Island, Fernando de Noronha, and Yemen all in one month WOW! Hope some other club members are either working the Diamond award or at least taking advantage of the great propagation.
Later,
Bob, WA6EZV
---------- XXX ----------
July 5, 2012
Jacksonville, FL
This will likely be my last update for a while. At the end of June, I managed to reach 131 Diamond Countries and 198 total countries for the year. I've attached a copy of my Year-To-Date totals. (see below) &nbsp Nearly 1000 QSOs for the year, four band DXCC worked, and DXCC confirmed via LoTW. Not too bad for wire antennas. Been fun. Let's hope the sunspot cycle continues to grow. Need 19 more diamond countries for my goal of 150. Might take a lot of luck.
Later,
Bob, WA6EZV

---------- XXX ----------
December 29, 2012
Jacksonville, FL
Hello:
Just a summary follow-up on my Diamond activity for the year. I came up just short of my goal of 150 Diamond countries finishing with 144. Heard enough new ones to get to 150 but could not make the contacts. For totals, I worked 212 countries and had 144 confirmed by LoTW. Did not send out a QSL card.
Bob, WA6EZV
---------- XXX ----------